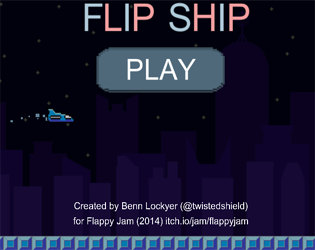 Flip Ship
Flip Ship was created for Flappy Jam, and has Ikaruga-style mechanics. While flapping your way through the game you need to 'flip' your ships colour between red and blue in order to absorb incoming bullets. Opposing coloured bullets will destroy your ship!

Use SPACE to 'flap' (or boost) your ship.
Use CTRL to 'flip' your ship between blue and red.
An updated* Android version of the game has been uploaded to the Google Play store, and can be downloaded here for free!

*Update has new name, Flippy Ship (thanks Matt!) only - no changes were made to the game play.
Also available on